Welcome!!
This blog hop is all about sharing things handmade. Show us your creativity. I can't wait to see what everyone has to share!
The Rules:
1. Please do not link up to any shops, only blog posts about your creations.
2. Please post my blog hop button on a post or somewhere on your blog. If you chose to follow ( not required) Cariboo Butterfly Handmade please be sure to leave a comment. I love comments, and will check and respond to each one...though it might take me a day or two. :)
3. Post up to 2 entries only.
4. Please keep entries family friendly.
5. Please try to follow back anyone that follows you from the hop. Thanks! :)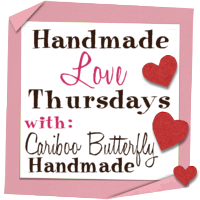 Most of all have fun! Sit back with a cup of tea, and take in all the craftiness.